At the launch of the new Youth2030 Strategy on 24th September 2018 United Nations Secretary General (UN SG) António Guterres noted that it was an extraordinary occasion to see so many young faces at the UN for the launch. Youth2030: The United Nations Youth Strategy envisions a world in which the human rights of every young person are realized so they can achieve their full potential to advance sustainable development and peace.
Despite the challenges, António Guterres pointed out that young people are a "vast source of innovation, ideas and solutions," who push for the needed changes in technology, climate action, inclusivity and societal justice. He stressed that, empowering young people, supporting them, and making sure they can fulfill their potential are important ends in themselves.
He further said the day of the launch marked the start of a new era for young people at the UN. He encouraged everyone to help move it forward. He urged Member States to invest in and empower youth nationally; challenged businesses to provide young people with skills and opportunities; and called on civil society to speak out and keep up the pressure.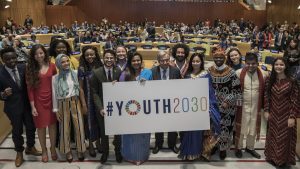 https://www.un.org/development/desa/youth/news/2018/09/youth2030/
By Felix Kiptoo