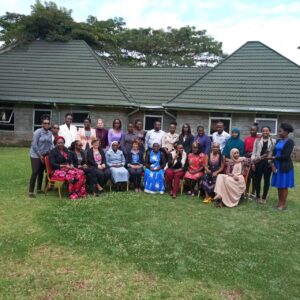 IPHRD-Africa hosted a Forum on Intergenerational Forum on Mediation with the theme of 'Support for Young Women Leaders Support to National Dialogue in Kenya' from 10th-11th September 2018. The aim of the Forum was to provide a platform for professional nurturing and mentoring and exchange of experiences on good practices on mediation. Of more importance was the need create a space for interaction between seasoned mediators and young women leaders in order to bridge the intergenerational gap existing in the field of conflict resolution.
IPHRD-Africa's strategic goal is to empower the community and support the processes of conflict prevention, resolution and management in conflict-affected and post conflict communities, IPHRD-Africa thus supports capacity building (especially of the youth and young women) for sustainable peace and development in Africa. The Forum discussed on what can be done to increase the participation of young women in peace processes and decision making mechanisms at the national level.
The Forum was held from on 10th-11th September 2018 at Desmond Tutu Conference Centre in Nairobi, Kenya. The panelists were drawn from various organizations such as Norwegian Centre for Conflict Resolution (NOREF), Rural Women Peace Link, National Steering Committee (NSC) on Peacebuilding and Conflict Management and Local Capacities for Peace International. The Forum was attended by 19 young women leaders from Nairobi, Baringo, Kisumu, West Pokot, Isiolo, Garissa and Uasin Gishu Counties between the ages of 18 to 32 years. Majority of the young women leaders who attended are in a leadership position and are engaged in peacebuilding activities within their communities. They were drawn from The Legend KenyaIPHRD-Africa, Silan Foundation. Silver Lining Kenya, East Africa Community (EAC), Everygirls Dream, G-United, Ministry of Education, Youth Bunge, Baringo Youth For Peace And Development, University of Nairobi, Peace and Charity Organization, Red Cross-University of Nairobi Chapter, NSC, Kenyatta University, Association of Evangalicals in Africa, Torres De Hommes and Nzumari Africa.
The Forum discussed the following thematic issues: reflections from young women mediation ambassadors; the experiences of young women in peace processes; reflections from seasoned women mediators; stakeholder analysis and conflict analysis; strategies on increasing the participation of young women in peace processes; challenges affecting young women's participation in peace processes and case study of women mediating peace in  Colombia.
The discussions provided a platform to strengthened understanding of the young women leaders on conflict prevention and resolution and stakeholder messaging. The acquired skills and knowledge from the Forum will prepare the young women leaders to participate and engage effectively with local, national and regional peace processes; advocate for active participation of young women in peace processes and for the integration of gender perspectives in peace work. This will lead to increased participation of women in peace processes at the highest levels, where decisions are made and consequently gender-sensitive peace agreements and mechanisms are developed.