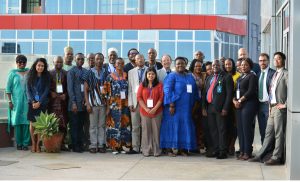 IPHRD-Africa attended the CSO Roundtable with World Bank, UN and AU on 7th September 2018. The Roundtable attended by 22 participants was organised by the Global Partnership for the Prevention of Armed Conflict (GPPAC), African Centre for Constructive Resolution of Disputes (ACCORD) and West African Network for Peacebuilding (WANEP).
The Roundtable provided a platform for reflections amongst civil society delegations on global policy frameworks on sustaining peace, peacebuilding, and conflict resolution in particular the Pathways for Peace study published by the UN and World Bank. The main points for discussions were how CSOs can contribute to the operationalization of the frameworks; how contextualization of these frameworks look at the local level and the measure CSOs can undertake to strengthen their relationship with regional actors for conflict prevention.
The discussions at the Roundtable will enable planning of operationalization mechanisms, critically think of approaches to conflict prevention especially mainstreaming human rights in conflict prevention and increasing bandwidth of engagement between CSOs and regional and global multilaterals.
The outcome of the workshop was identifying ways in which global policy frameworks on peace facilitate partnerships and engagement across various stakeholders towards peacebuilding and conflict prevention; identifying key areas of engagement with civil society, global multilaterals and regional intergovernmental organizations, for strengthening local, national and regional frameworks for peace building and conflict resolution and identifying the challenges experienced at the local level in conflict prevention and the way in which global and regional multilaterals can seek to address these.